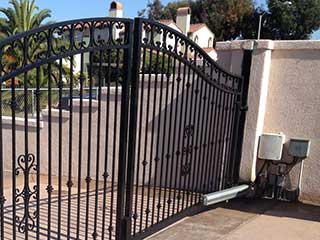 You don't need to be a trained mechanic in order to take good care of your driveway gate. Regular maintenance is one of the most frequently overlooked aspects of home repair, and many home and business owners end up paying for it when they neglect to carry out a few simple routines.
Keep It Clean
One of the best, and simplest, things you can do to stave off wear and tear is to just keep your gate clean. Power washing and drying its different parts (especially the hinges and the frame or the panels) every few months will do wonders for postponing the next serious repair job, and yearly painting will help preserve the finish and keep your gate protected from the elements.
Oil It Up
Moving metal parts of mechanical devices require lubrication from time to time, and gates are no exception: especially if you have a lifting or a sliding mechanism. Some industrial lubricant applied to the moving parts reduces friction and will help keep the mechanism moving quietly and smoothly. If your gate is moving slower than usual or making creaking noises, it's probably time for a little drop of oil.
Protect Your Electronics
The opener, intercom, and other wires or electrical devices require sturdy protection from the elements. Make sure yours are covered from the rain, sheltered from strong winds, and have a good insulation or housing layer to prevent damage from insects, rodents, and other pests. If animal damage is a continual problem, consider switching any wired components you have to remote-controlled and battery-powered alternatives, as exposed wires are some of the most likely targets. It's also not a bad idea to test all of your security and safety features from time to time, as these can start to malfunction long before you notice the problem.
A Few Minutes Can Save Days Of Headaches
A little bit of work a few times a year can save you a lot of money and aggravation, by preventing all sorts of major breakdowns. You can learn more useful information about these systems by exploring the rest of our website and our other blog posts. Rembert, if you're in need of assistance, our experts at Gate Repair Pasadena are a phone call away.