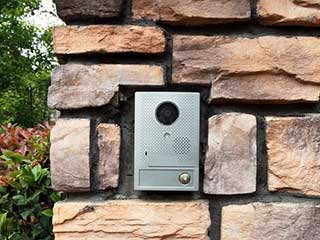 The intercom on a gate is extremely helpful. It allows you to talk to anyone wanting to enter without having to trek all the way out to the gate to determine what's going on. Our team can help keep it in good shape, or put one in for you in no time!
Trustworthy, Long Lasting Repairs
Have you noticed that your gate's intercom is unreliable? Does it cut out or is it difficult to understand what's being said? If so, it's time to get it repaired! Otherwise it creates unnecessary hassle for you trying to negotiate with deliveries, determine who a visitor is, or turn away solicitors. Our professionals use the finest tools and years of experience to take care of repairing wiring, transformer troubles, or anything else that may be causing the issue. Your intercom will be working like new again quickly and easily.
Fast Installation Services
Intercoms are an excellent addition to your gate to make things that much easier for you! It makes it simple and straightforward to be able to take care of allowing people inside and also keeping out any unwanted visitors. Rather than need to run out and down the driveway anytime someone arrives, why not let us install a new intercom for you? Our company works quickly and effectively to ensure that it will work for you for a long time. Along with this, our team will assist you in finding the perfect fit for your needs!
Schedule Your Appointment Today
It's time to make sure that you can easily communicate with anyone coming in and out of your property so you're always aware of what's going on! Our team understands you've got a busy life to get to, which is why our experts will be there on time and get straight to work! Call Gate Repair Pasadena now and let us lend you a hand. It'll all be taken care of swiftly.