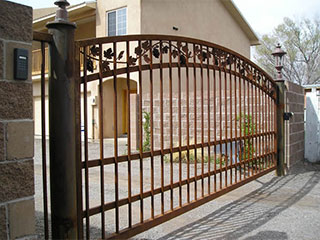 Metal gates provide excellent security, and are a very durable and attractive way of protecting your property. There are a huge number of different options available on the market these days, from custom wrought-iron designs to simple sheet steel, and everything in between. This guide will help you to understand what options are available to you, and what to consider before making a decision.
Wrought Iron Gate Systems
This material is unmistakably classy. Evoking an earlier era, and often an ornate classic design, gothic or otherwise. Wrought iron is a great way to welcome visitors to your property as it tends to make a strong first impression, but it isn't always the right choice. Iron can corrode if not regularly maintained, and the sheer weight of the bars can make these types of frames expensive, as they need to be thicker than steel in order to provide similar durability. A wrought iron frame also doesn't block line of sight, so it won't stop people from looking through if they want to, which means it won't provide much privacy.
What About Steel Gates?
Steel is an excellent material for gate construction. It's tough, versatile and reasonably easy to work with. It doesn't need to be as thick as wrought iron in order to provide a similar level of security, and pound-for-pound is tougher, too. Steel driveway gates are often more affordable than wrought-iron ones, though they don't have the same timeless curb appeal. However, because steel is still a heavy material, panels made from it typically aren't built in sheets, so passers-by can still look through their slats and your privacy would still be somewhat compromised. The heavier the system, the more powerful the electric gate opener it will need, so that should be another factor that you don't neglect to consider.
Aluminum Gates - Benefits & Drawbacks
The third most common type of metal used in gate construction is aluminum. This material has many advantages; it's cheap, light, and it doesn't rust like steel or iron. However, it doesn't have the pure tensile strength the other metals variations do. Gates made from aluminum are easier and cheaper to install, because they're lighter, and are also more readily available in sheet forms (which block line of sight much more effectively, thus granting you more privacy). If you have any questions, and would like to speak to an expert, don't hesitate to get in touch with our team at Gate Repair Pasadena today.