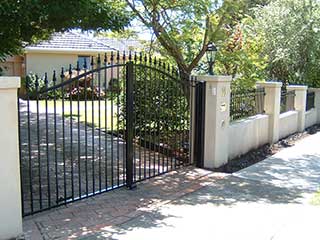 Driveway gates don't often call attention to themselves. They open and close when you press the button, and that's that. However, a great deal of energy is required to move something as heavy as this type of system, and the machinery involved is deceptively complex. Malfunctions can come from numerous failure points, and installing or repairing a gate is a job for professionals.
When The Gate Doesn't Work
An automatic gate can take damage to its antenna or wired controls, preventing it from receiving the signal to open when your remote transmits it. The bars or panels can be broken, dented, or warped, and the hinges or rollers that it moves on can also break or rust. The intercom or power supply can have problems as well. Most frustrating are issues caused by components located inside the operator, including motor and electrical failures, as you usually can't see the source of the problem without looking inside.
Gate Repairs Of All Kinds
Whether the task calls for woodworking, welding, or rewiring, our technicians know driveway gates inside and out. If it turns out that a component is broken beyond repair and in need of replacement, our company has a line to a number of trusted manufacturers of tracks, rollers, and even entire new openers, not to mention building materials that allow us to build custom made gates. Preventative operations, such as adding new insulation to an opener or weatherproofing wooden panels, are also available.
Installing a New Gate
Using those same high quality components, our technicians can also build entire new driveway gates. Depending on the layout of your property, your desired look, and your budget, our team can help you pick a sliding or swinging gate design that best suits your needs, and we'll assemble it right there on your property. Wooden, metal, and polymer frames and bars of many different sizes and styles are also on the menu; just ask our technicians how they can make it happen.
Book An Appointment With The Nearest Experts
Our services are available on any weekday, anywhere within Pasadena municipal limits. Give us a call and tell us what our team can do for you today.