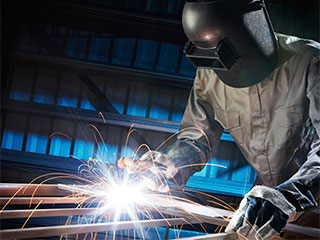 An unreliable gate system is more than just inconvenient - it can be a real security and safety hazard. This system is the first line of defense you have against people trying to enter your property, so it's vital that the mechanism and all its related parts are kept in good working order. Similarly, a gate that isn't properly taken care of can be dangerous, as components wear out and fail over time. Our team offers all the services you need to ensure your system works reliably and safely day in and day out.
Different Gates, Different Problems
Modern systems come in many different types. Some swing, some slide, and some roll, and each type can develop unique issues. Swing gates require strong hinges in order to function reliably, but these can be weakened by cracks and fractures, as well as rust. Our team offers welding repairs specifically for these issues, and many more; if your rolling gate wheels wear out, for example, our technicians are ready to replace them.
Varying Material Problems
Just as each gate system is different, so are the different materials used to create it. A wooden gate will suffer from different problems compared to a wrought iron one; wood won't rust, but if it isn't regularly cleaned and resealed it can absorb water and rot, or warp. Aluminum gates aren't liable to rust, but they can be dented easily, and therefore don't provide the same level of security.
Problems With The Phone Entry System
Without a working intercom system, your gate is not much use. Sure, it can keep people out, but what about when someone you know wants to get in? You need to be able to communicate with visitors freely and – if you so choose – to be able to let them in with the push of a button. That's why any problem with your phone entry system must be solved quickly. Issues with the intercom system aren't just annoying to deal with, they create a major disruption to your daily routine which can be a serious problem for commercial gate owners. Time is money, after all.
Get The Help You Need When You Need It
Our experts at Gate Repair Pasadena operate nearby and are ready to provide any service you may need. You can always rely on our team to offer you effective and affordable solutions whenever sometimes goes wrong with your system. Give us a call today.
Count on us when it comes to:
Wrought Iron Gates
Gate Remote Program
Automatic Gate Repair
Phone Entry Systems