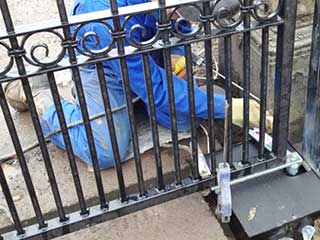 A new gate around your property, whether at home or for your business, is an easy way to help boost security and make things safer! It ensures that you'll always know the comings and goings of your property and will help to keep out any unsavory types, as well as give a sense of privacy. Our experts would be happy to help with installation right away!
Long Lasting And Beautiful Wrought Iron
One of the many types of gates to choose from is wrought iron, which is one of the most aesthetically pleasing types. They come in a variety of styles to suit your taste, and provide security while also adding an elegant flare to your home. As one of the sturdiest and reliable choices, it's great for those who want to have more seclusion without detracting from the look of your home. The iron it's crafted from also ensures that it will have a very long lifespan, more than any other type.
Custom-Made Gates Unique To Your Needs
If you're looking for something specifically made to your specifications and taste, our team would be happy to take care of installing a custom-made gate for you. Our professionals will work with you and discuss what you're looking for so we can ensure that it looks like you've imagined, and can rest assured it will last you for a very long time as well.
Swift And High-Quality Service
Using the finest tools and parts available along with our years of expertise, our company will provide a quick and satisfying experience when it comes to installation! Our speed will never outweigh the sturdiness of the job, and you can count on our projects to work beautifully for you and continue to do so for years to come. It'll all be taken care of before you know it!
Why Wait Any Longer?
Rather than continue putting off getting a gate and the security that comes with it, why not contact Gate Repair Pasadena today to schedule your appointment? You'll be glad you did.
Count on our team for:

Residential Gate Repair

Parking Garage Gates

Ramset Gate Openers

Aiphone Gate Intercoms