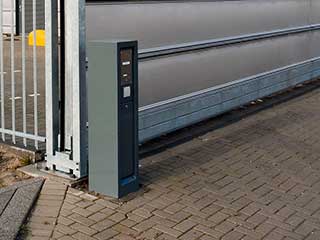 Whether you're looking to install a new gate opener, or your current system has developed a fault, our team is always ready to provide fast and effective repairs. Leave it to our technicians to get everything working quickly again, without wasting any time. Our company offers emergency repair services and a same day assistance policy, for those instances when urgency is needed.
A Few Potential Problems
Automatic gate systems can suffer from a wide range of different issues. Internal problems, such as corroded electrical components and damaged circuit boards, can cause the system to work slowly or unreliably, while physical damage to the drive system or the motor gears can prevent the gate from opening smoothly, or at all. These problems and all sorts of other ones can be handled by our technicians, who have more than a decade of experience working in the industry and fixing all sorts of residential and commercial gate systems.
Installing New Drive Units
A malfunctioning gate opener may need to be replaced eventually, if the problems aren't worth repairing or if they're severe enough. Selecting an appropriate unit for your gate isn't always simple. You'll want to consult with our experts to get in-depth advice and guidance on the different options available to you, such as swing gate articulated arm openers or ones that use a hydraulic ram or a telescopic one. Making the right decision at this point is crucial, as some models are likely to be better suited to your needs than others.
An Emphasis On Quality
Reliability is key for an opener, and that's why Gate Repair Pasadena only works with the brands that we know and trust; Elite, Doorking, and LiftMaster, to name a few. Our team carries a full range of replacement components, in order to be able to fix problems with any model when urgent repairs are required.
Gate Repair Specialists Near You
Don't put up with an unreliable gate system or ones that keeps malfunctioning every other day. Our team is ready to provide all the assistance you may need. Give us a call today to book a service appointment.
Count on us for:

Swing Gate Repair

Solid Sliding Gates

Eagle Gate Opener

Linear Gate Intercoms